Innovative 5-axis CNC glass processing
Conventional technologies for CNC ceramic and glass processing are no longer able to cope with the growing demands on optical and geometric component properties. Grinding, lapping and polishing processes are realized on separate machines. Each of these technologies is very complex and demanding in its own right. The manual change of components between the machines and limitations in the machine kinematics thus lead to considerable losses in accuracy. In addition, the design and functionality of the components is often restricted.
To meet the requirements, ShapeFab developed a more efficient manufacturing process for high-precision components made of glass. All previously separated manufacturing steps are combined on one machine. By means of high-precision 5-axis CNC jig grinding and corresponding integration of CAD-CAM chain, processes
Eine derartige Herstellung komplexer Bauteile eröffnet völlig neue Designmöglichkeiten in der Produktentwicklung, da optisch wirksame Oberflächen auf beliebige dreidimensionale Strukturen mit hoher Genauigkeit aufgebracht werden können. Da der Fertigungsprozess voll automatisierbar ist, kann eine hohe Prozesssicherheit gewährleistet werden. Zudem fällt ein manueller Bauteilwechsel weg und höhere Fertigungsgenauigkeiten sowie geringere Fertigungskosten können erzielt werden.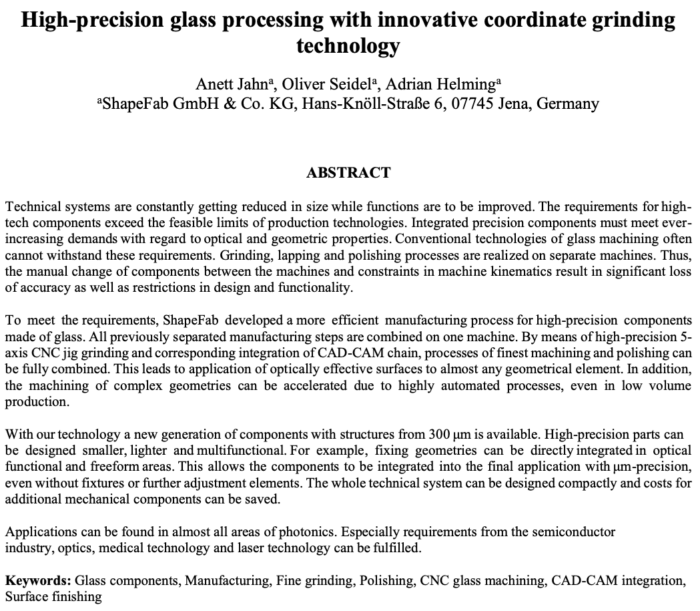 If you would like to learn more about the most important research and application results related to our CNC glass processing, we invite you to request our paper. We will send it to you at the given e-mail address.